What is English in Nature all about? [Free Sample Activities]
What is English in Nature all about?
We are just getting started but here are 36 of the most fun activties you can do while practicing English in Nature.
Many of these activities are personal favorites of mine that I'd been teaching for years, before I'd even heard of the concept of CLIL (short for "content and language integrated learning"). Most are workshops I've taught in both Engilsh and German to speakers of either language. All are adapted to be suited to English-language learners and can be matched to the age and proficiency levels of any learners.
Get free sample activities
PLEASE NOTE: once you become a subscriber, you'll receive updates as to when each of these activities becomes available.
As you'll see in the samples, the structure of the lessons and some of the methods are quite different to those designed for native speakers, even where the content may be essentially the same. There are also important differences between this kind of lesson and conventional language lessons.
Nature Journal Writing
Habitat-Mapping & Orienteering
Nature Shadow Theater: Nature Folk & Fairy Tales
Treasure Hunt & The Art of Tracking
12 Wild Herbs to Identify and Use
Ecosystem Pond & Stream
Ecosystem Woodlands & Meadows
Bees, Butterflies & Other Pollinators
Creatures of the Night: Bats, Rats, Cats, Moths & Owls
By Land, By Water: Amphibious Adaptations
Candle-Making with Beeswax
Weaving with Willow
Tree-Free Paper-Making
Felting with Wool and Other Fibers
Winter Tree ID & Bud Pushing
Oh Deer! Natural Jewelry Workshop
Herbarium: Build A Plant-Press Workshop
Composting: How to Make Farmer's Gold
Starting a Teaching Garden
Insect Hotel Workshop
Bird Feeder Workshop
Bat Box Workshop
Wild Foods Workshop
Fire Baker Workshop
Wacky Woodland Olympics
The Tiny Seed & The Great Nut (Dispersal)
Inside Flowers
Catching Bugs & Making Wishes
A Year in the Life of a Frog
Migration Headaches & Nest Building
Animal Homes: Tireless, Genious Builders
Nature's Remedies: Home-made Health- & Homecare
The Writer's Quill & Other Uses of a Feather
Making Earth Art Using Nature's Palette
Insect Expedition: Meeting Earth's Most Numerous Creatures
Upcycling, Not Downcycling, for Young Engineers
Yield: Group or Individual
EiN Acrostics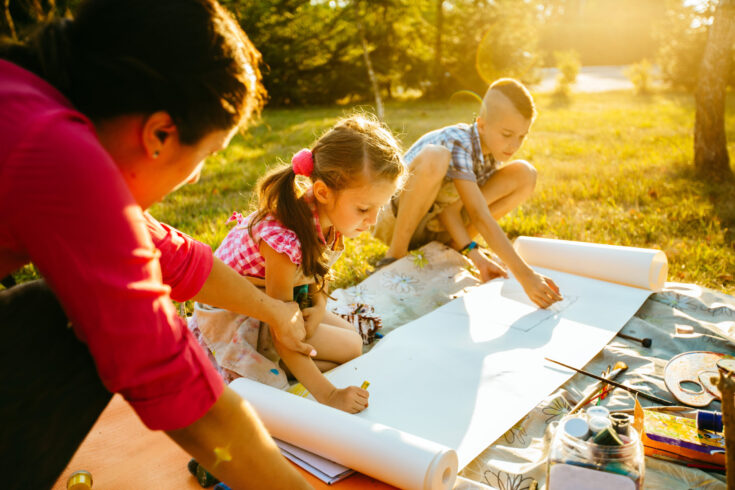 This quiet game is a great time-filler that can be completed in 10 minutes. No special preparation or materials are needed besides writing tools.
The Main Idea:
Learners focus on something that inspires them and use adjectives (new or familiar) to describe it.
Difficulty
Ages 8 to Adult
Materials
Index Cards or
Notebook for each learner
Pencils or Pens
Picture-Word Cards
Instructions
Introduction:
After spending just a few hours outdoors, your learners will notice that there are many things all around to see, name, describe and talk about, but they also notice quickly that finding the right words can be difficult. This makes conversation very short, often dissatisfying or even frustrating. Here's a fun and creative way to build vocabulary while staying in tune with the living world we're immersed in!
Activity:
Pass out an index card to each learner, or ask them to open to a blank page in their notebooks.
Tell learners to look around them and choose something that catches their eye and write the name of it VERTICALLY on their card or on the blank page in their notebook (see illustration).
If learners are not feeling very inspired or are strugglng to remember the names of the things they see, then lay out a few Picture-Word Cards of things that they might see around them to help them to choose a word.
Now each learner should use each letter of the orignal word to start a new word or phrase that describes the original word (see illustration).
If addtional help is needed:
offer a few examples of words and phrases that describe by describing your own chosen item.
lay out an assortment of words and phrases that could be used to describe.
Reflection:
Pin the cards next to the objects themselves or on a display/pinboard next to a picture of the items. Ask learners what words they like, which ones are new, which ones remind them of something or someplace else.